While traveling the south of Baru we met one of the last farmers on the island, Peta. Taroa Adventures was able to learn a bit about his life and the challenges that he faces in the farming industry. 
Peta was a sailor and a farmer for many years, but sailing was hard on him because he missed his family whenever he had to go. As much as he loved the ocean, he just could not continue this way. One day, while working in Panama, he asked his boss for special permission to go back home to visit his family and it was granted on the condition that he return quickly. Instead, Peta returned to his farm on the island and never looked back.
When he returned to his family's farm, some of his siblings were interested in selling it but he and a few of his brothers were determined to keep it going. Since he was the only one living on the land full time, he was able to thwart their efforts and maintain the ownership of the property. Now, at 75 years old, he has everything that he wanted. He has his farm and his family and his beloved island, but he still dreams of being on a boat again. He showed us his notebook full of his dream vessels that he hopes to see again one day. 
Farming in the conditions of today's climate change is no easy task. Peta has struggled to maintain the fruitfulness of his crop in spite of his best efforts. He shared about how the dry season has grown longer and hotter and that certain crops struggle in their size and quality as a result. Other factors that have played a part stretch back to the 1980's.
Many years back, the island of Baru had a thriving economy due to the coconut farms. When the price of the coconut fell, the island shifted to tourism and many developers arrived to build real estate. They ripped out much of the natural weather defenses in terms of trees and other vegetation, and when they island began to deal with road erosion as well they left the island forever changed. Although there is still a vibrant tourism economy, the people of the island are eagerly awaiting the reb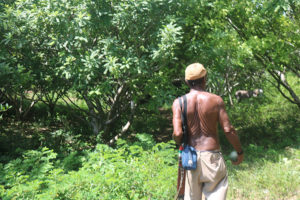 uilding of the road that will allow them to partner with the mainland of the Caribbean coast more easily. 
In the meantime, Peta continues to work on his beloved farm with nothing but joy. When asked what else he would like to do if the farming difficulties continue, and he said that he only hopes to be able to drive a car again when the road is fixed. As of right now, the tourism to the island is bustling but we love the village most of all. Residents of the area like Peta bring a warmth and graciousness that is difficult to match, and he represents a large part of why we love bringing our friends here. We look forward to sharing these precious moments with you on your next trip to Cartagena!
To learn more about how you can visit the wonderful people of Baru, click here.